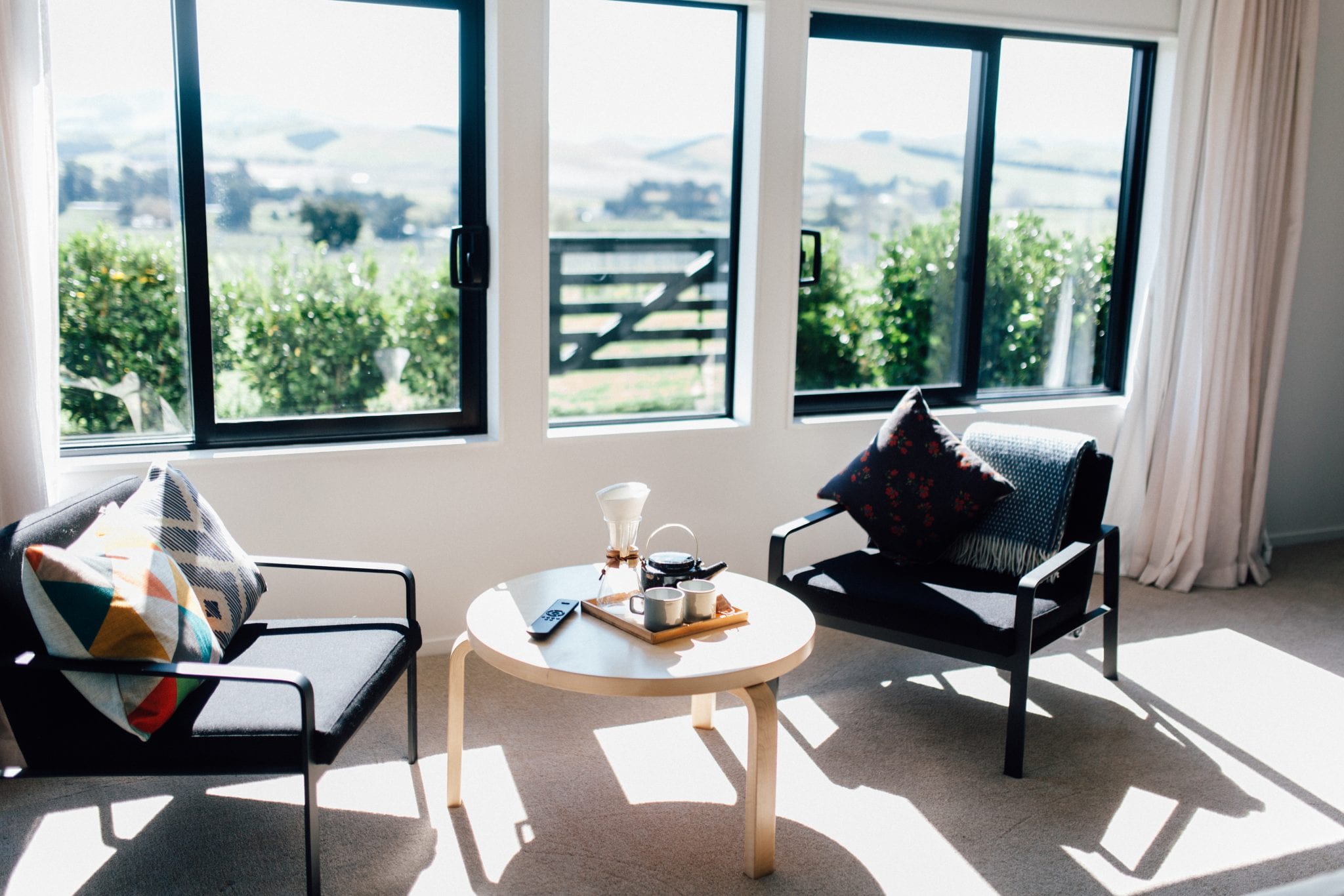 Black Estate B & B
A beautiful B & B at Black Estate's organic Home vineyard, located on the ground floor of our architecturally designed building.  The views over the organic winery are vast, expanding from the garden and vineyard to the majestic Southern Alps.  You can stay any night of the week. Our cellar door is open 7 days a week from 10 December – 13 March 2024. Our restaurant is open  Thursday – Monday all year.
On days that it is open, our restaurant closes at 4pm so you'll have the place & sunset to yourselves from about 530pm.
Staying here allows you to experience all the life on our Home vineyard. You may observe our staff in the vineyard, the odd tractor and the environment around our vines. The B & B is on the Waipara Valley Vineyard Trail and mountain bikes are provided for use while you are staying.
614 Omihi Road, SH1, Waipara Valley.  Directions here.
Click on each heading for great places to stay in our region.
Sharing the driveway with Black Estate restaurant,  Kumiko's Guest House –  a luxurious three bedroom Japanese designed home with japanese gardens and spa bath and two cute huts.
A modern cabin on a beautiful  5th generation farm accoss the valley.
Situated on the Waipara Valley cycle trail, so you can bike to the restaurant!  A selection of rooms or the barn in a beautiful historic setting.
Flaxen Park Countryside Retreat
In the heart of Waipara, 40 minutes drive from Christchurch.  Serene large garden and a beautiful villa to relax in.
Private glass pod to watch the stars and nature from.  Other pods are close by too.
A cute little hut on our vege supplier's biodynamic farm, over-looking Gore Bay .
Multiple rooms in an historic homestead.
Air B & B super hosted by Barb close by.
Tranquil B & B looking out to Black Estate from the other side of the valley.
A well run motel in our service town, Amberley.